Nova metal wire mesh company offer a range of wire mesh gabion baskets that are delivered flat packed, it's easy to transport, and ready to be assembled via wire or helical fixings and filled on site. Gabion baskets can be filled with rounded stone, angular rock or recycled materials like crushed concrete as required. Gabions are provided in Zinc coated triple life corrosion protection as standard, optional PVC coating or stainless steel wire are also available.
Nova Welded Gabions are typically used to create free draining gravity retaining structures in slope stabilisation and erosion protection applications. The infilled gabions can be used to secure erosive landscapes and provide structural support for applications such as bridge abutments, wing walls and outlet aprons, gabions can also be used to clad unsightly areas to improve aesthetics.
Welded Mesh Gabions can be manufactured a series sizes or combinations of wire diameters to suit particular needs and stainless steel gabions are also available to special order.
Welded Gabion specifications
Wire diameter:3.0-6.0mm
Size M
Mesh size MM
DiaphragmsNo.
CBM
1.0*1.0*0.5
50*50 75*75 50*100 100*100
0
0.5
1.0*1.0*1.0
0
1.0
1.5*1.0*0.5
0
0.75
1.5*1.0*1.0
0
1.5
2.0*1.0*0.5
1
1.0
2.0*1.0*1.0
1
2.0
3.0*1.0*0.5
2
1.5
3.0*1.0*1.0
2
3.0
4.0*1.0*0.5
3
2.0
4.0*1.0*1.0
3
4.0
The specifications can be customized.
please note that dimensions are approximate and may vary slightly.
Features:
Different sizes
Easy to install and assemble
High Tensile Strength
Ecological and Economical
Durability
Applications:
Gabion Retaining wall structures
Landscaping designs for public areas and private gardens
Rock fall protection
Flood control & canal training
river and stream banks
embankments and bridge abutments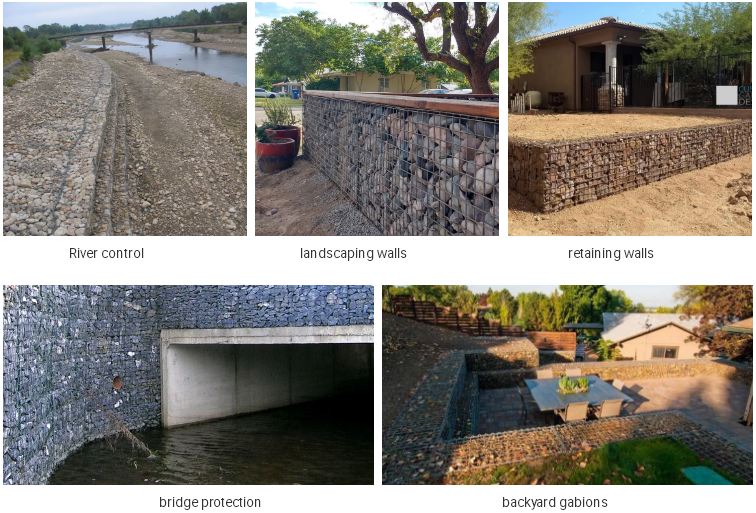 Packing details: In pallet, or put in wooden case or cartons, according to buyers requirement.