Product Details:
Chain Link Mesh is a common structure used as curtains for isolation of shower room or wall coverings. This metal mesh fabric is made with high quality stainless steel wire (AISI304 or 316), aluminum alloy wire, brass wire, cooper wire or other alloy materials. Chain Link Metal Mesh is used for decoration in the modern architectures and buildings and widely used as curtains or draperies in house, screens for dining hall, isolation in holes, ceiling decoration, decoration in trade fair exhibition and retractable sun protection, etc. With its versatility, unique texture, variety of color, durability and flexibility, the metal wire mesh curtains offers a modern decoration style for constructions.
Besides decorative mesh, Chain link is also widely used as fencing metals in various industries.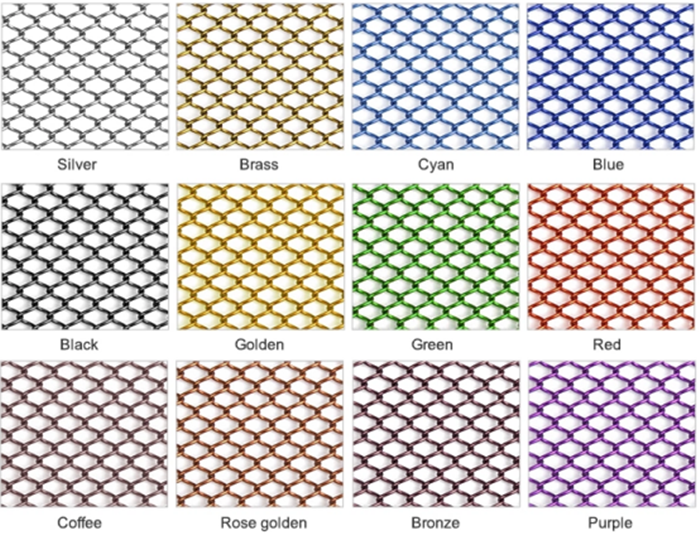 | | | | | |
| --- | --- | --- | --- | --- |
| Material | Wire diameter | Aperture | Spiral diameter thickness | Weight (kg/m²) |
| Ss304.ss316 | 1.2mm | 6.8mm | 6.5mm | 5.8 |
| Magnesium alloy | 1.2mm | 8.5mm | 7.1mm | 2 |
| Magnesium alloy | 1.2mm | 8.5mm | 7.1mm | 2 |
| Magnesium alloy | 1.2mm | 8.5mm | 7.1mm | 2 |
| Magnesium alloy | 1.0mm | 5.5mm | 5.5mm | 1.7 |
| Magnesium alloy | 1.2mm | 6.8mm | 6.5mm | 2.5 |
Features:
Metal mesh draperies offering the following features:
Fireproof: This kind of metal mesh cloth is not like the common cotton or polyester cloth, it is nonflammable.
Easy to cleaning: You just use a piece of cotton cloth to wipe it when metal cloth are dirty.
The installation is easy and fast and it has elegant appearance
It reflects the unlimited creativity and artistic feeling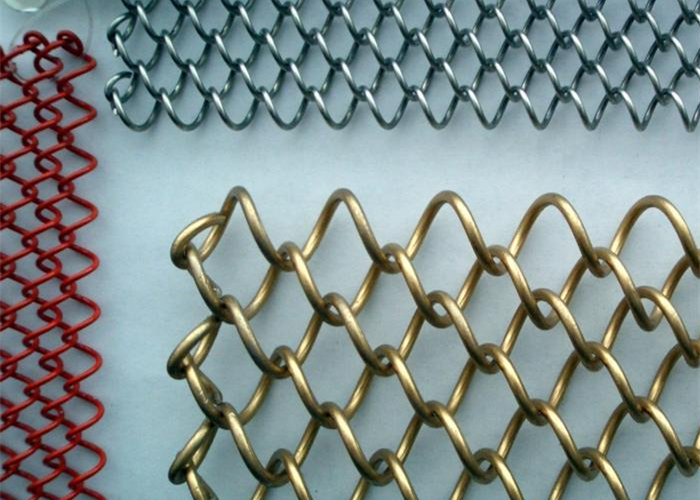 Applications:
Metal mesh curtain is very flexible and roll-able in length, has been widely used in architecture. Such as curtains, space dividers, wall cladding, stage background, ceiling decoration, public architectonic art in shopping mall,Restaurant,hall,Commercial office,Hotel,Bar,Resting room,Exhibition and etc.